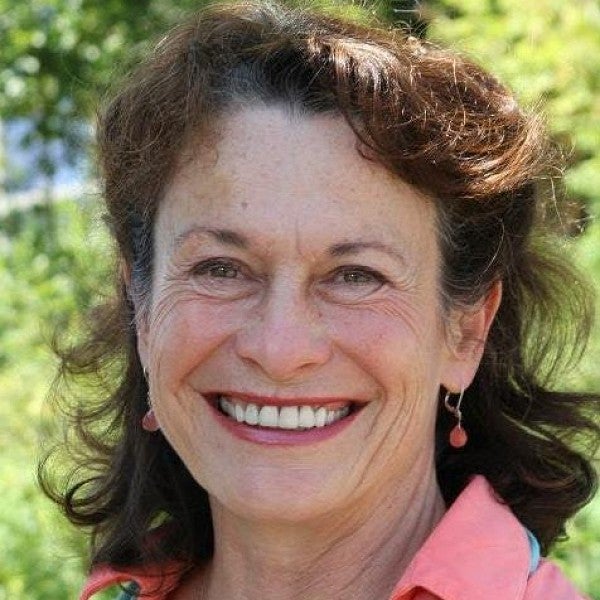 Theresa May
THOMAS F. HERMAN FACULTY ACHIEVEMENT AWARD
Professor in the Department of Theatre Arts in the College of Arts and Sciences
"I am profoundly grateful and enormously humbled as I reflect on the great many extraordinary faculty in our UO community – folks of deep commitment, passionate teaching, and significant research who inspire me every day."
Classes with May

Literature/culture/theory classes 
TA 271
Introduction to the Theatre
TA 472/572
Latino/a Drama
Native Theatre
Theatre as Environmental Justice Praxis
TA 471/571
Climate Change Theatre Praxis
Site-specific Theatre Theory and Practice 
TA 472/572
Native Theatre/WaterWays
Practice (performance based) classes
TA 252
Acting III: the Audition
TA 399
Stories of Now: generating solo performance
TA 452/552
Advanced Acting
Embodiment
Improv for Science Comm.
TA 499/599
Presence Workshop
TA 490
Capstone: Devising: collaborative theatre-making 
Graduate Seminars
TA 607
Graduate seminar in Applied Theatre
Indigenous Methodologies in Native Theatre
Ecodramaturgy
Applied Theatre Theory and Practice
TA 452/552  
Improv for Science Communication
What does this winning this award mean to you?
I am profoundly grateful and enormously humbled as I reflect on the great many extraordinary faculty in our UO community – folks of deep commitment, passionate teaching, and significant research who inspire me every day! It also means that the University of Oregon values and recognizes many ways of knowing, and different types of knowledge. I believe that the arts and humanities teach the fundamental building blocks of democracy as they exercise much-needed civic empathy.
All those times I doubted myself and felt like I'd failed my students, were learning moments from which I grew; that failure can be the scaffolding for new discovery. This award is, for me, a milestone, but one on a continuing path of learning.
---
If you received this award on stage at a ceremony like the Oscars or the Grammys, what would you say?
I would express my gratitude, as a settler-descendent faculty, for standing on Kalapuya illihi, the traditional homelands of the Kalapuya people, and for the honor of teaching and working on this land. Then I might say that it takes a village. This award does not represent the labor of one individual – the idea of individual achievement is overrated in academia actually. I share this honor with my students first and foremost – honoring their curiosity and courage, their gumption and heart. I share this award with my grad students and colleagues, as well as my own teachers over many years, whose own struggles with pedagogical approaches and strategies have helped me grow as a teacher and facilitator.  And certainly, I share it with my Theatre Arts office staff, without whom we would all be lost, right?  
---
How would you describe what you do (i.e. teaching, research, etc.) to someone outside of the UO?
I support my students in developing the power and potential of their own voices – whether on stage, in the studio or classroom, or through scholarship. I coach people to speak from the heart; to believe their voice matters, and to commit to using it to contribute in some way to the possibility of a world in which we can all thrive. I also teach listening – the very art and craft of opening one's heart to others, and of paying close attention. 
I teach a craft that changes hearts and minds. There isn't any corner of our social fabric that is not touched by stories, and that does not invite new stories to be told.  Learning this, we also learn to be responsible – as artists and citizens – for the stories that we tell and how we tell them.
---
What was your favorite class or subject in high school? College?
In high school, literature and science.  Definitely not theatre – I was way too shy!  Loved physics, but hated math so I did not get very good grades in it.
In college, I was a journalism major, wrote poetry on the side and dreamed of being a writer. Then took some dance classes and fell in love with the body's capacity for self and community expression. As a journalism major I was concerned with social justice – civil rights, women's rights, the environment. When I got a journalism internship writing drama reviews I thought I should take a theatre class as background for the assignment for the newspaper.  In that class – Introduction to the Theatre – I thought, OMG, this art form can change the world!  Of course, it can't, but it can change worlds – it changed mine. 
---
What's the most inspiring classroom moment you've experienced, either as a student or a teacher?
In 2017 and 2018 Elder in Residence Marta Lu Clifford (Cree/Chinook/Grand Ronde) and I taught a special section of our Native Theatre class called "WaterWays." The course included reading plays and critical/historical materials, as well as guest speakers, including tribal elders, storytellers and educators from our regional tribal communities.  Many students (the non-Native students) were shocked, angry and filled with grief that they were in college and did not know the history of the lands they now call home. We talked openly in the class about how to move through our settler grief to be a learning, growing ally. I devised prompts that allowed students to speak back to and reflect on this history – letters to their sixth grade teacher, rants, poems, stories and other creative responses. 
From this body of material, I wove a script that the students read aloud to an audience of elders and other members of UO's Native community. Afterwards, they shared with the audience the ways in which the process of the class had changed them. I think that was one of my most inspiring moments, seeing our students take responsibility for the history that they did not condone but benefited from nevertheless, and turn their sadness and anger into collective beauty and to gift that back to a larger circle of listeners.
---
What are you listening to right now OR what is your favorite music to put on?
Nina Simone's version of the Beatle's "Here Comes the Sun"… the lyrics seem apt right now:  
"Here comes the sun, little darling / it's been a long cold lonely winter / Here comes the sun / it feels like years since it's been here / Here comes the sun / the smiles are returning to the faces / it seems like years since it's been clear / Here comes the sun…."
---
Where can you be found when you're not in the classroom (or in front of your computer on Zoom!)?
Early in the morning or late at night, I'm working on an article or book chapter. Now, I am heading into the garden to get a jump on the weeds and put in the tomatoes; or heading out for a hike with my watercolors; or working on a series of children's stories that have been percolating. Ahh, and now I have to take our dog out for his walk – taking care of our 15-year-old Australian Shepard Milo is where I am right now.