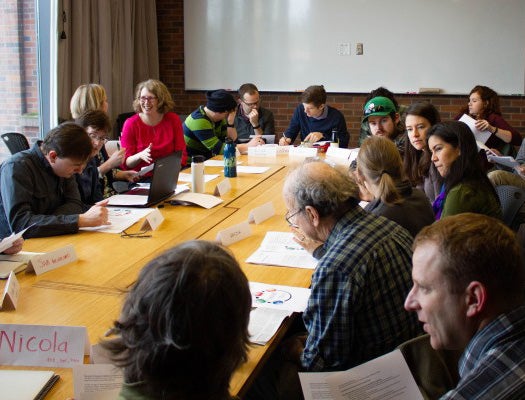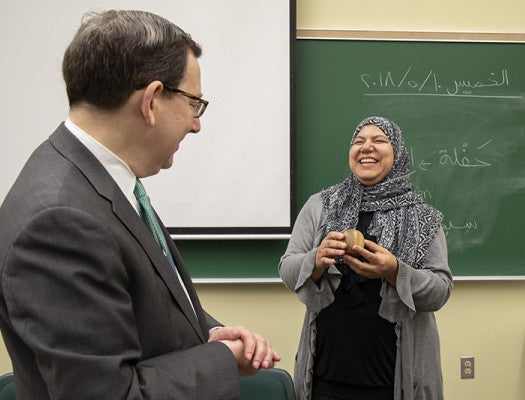 Teaching at UO
UO enjoys a rich and enlivened teaching culture—teaching excellence is part of what makes it distinctive as a university. Its Provost's Teaching Academy and UO Summer Teaching Institute faculty fill ballrooms and lecture halls as colleagues come together to share and innovate in their teaching practice. By defining what teaching quality means and aligning teaching development, evaluation, and reward systems with this definition, the university is creating an inclusive, engaged, and research-led teaching culture that has the power to shape the experience of each and every University of Oregon student. UO's teaching culture is central to a deep, university-wide commitment to students' learning, positive experience, career readiness and, social responsibility.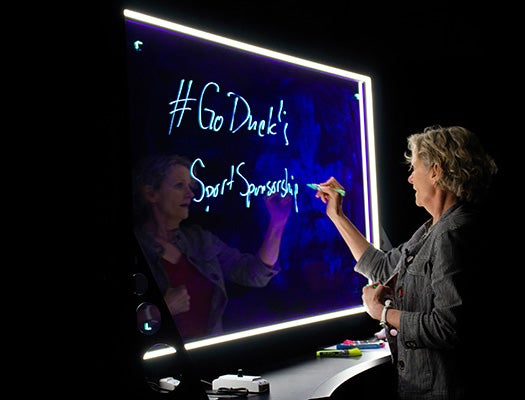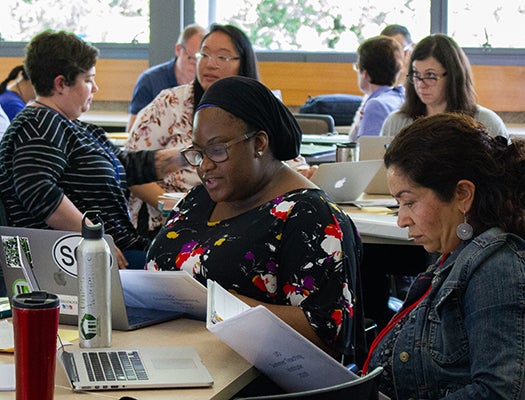 One of the great strengths of the University of Oregon is the commitment that our faculty members have to our students, especially in terms of delivering an excellent educational experience at the cutting edge of their fields. The Office of the Provost—including the Teaching Engagement Program, UO Online, and the Academic Affairs team—serves as a catalyst for faculty to engage, improve, and share the very best approaches that support their teaching efforts and help them ensure that the university as a whole continues to be a leader in teaching innovation. 
—Patrick Phillips, Provost and Senior Vice President
At UO, teaching excellence is defined as inclusive, engaged, and research-led—inflected by the university's research mission and informed by research on how students learn. These broad principles, developed by the Teaching Engagement Program and embraced by the Provost's Teaching Academy, unite teaching across disciplines even as faculty and graduate student instructors implement them in varied and rich ways. Defining teaching quality makes it possible to offer valuable support to develop teaching in ways that are reflected in the university's systems for evaluating and rewarding instructors.
Great teaching, then, is something all instructors can all work together on and achieve.
Teaching Engagement Program (TEP)
TEP is UO's central faculty and graduate instructor teaching development unit. It serves UO's teachers across rank and discipline, offering confidential, supportive consultations; a lively slate of workshops; research and assessment support for faculty and departments that want to pursue questions about student learning; and funded opportunities for in-depth course development and teaching and learning leadership initiatives. TEP creates opportunities for faculty and graduate instructors to develop and refresh their pedagogy in collaboration with one another; engage with campus, national, and scholarly conversations about excellence in higher education; and use teaching insights to inform policy and core curriculum renewal. 
Teaching Development Curriculum
TEP's workshop series spotlights UO's teaching community and brings innovative methods and timely teaching issues into conversation across campus. At the heart of its "curriculum" is supporting faculty and graduate instructors in inclusive, engaged, and research-led teaching. Specifically, TEP's core skills workshops—Teaching toward Inclusion and Belonging, Aligned Design, Research-led Practices to 'Activate' and Class, and Teaching at a Research University— align with the quality standards that define teaching excellence. These workshops are offered throughout the academic year and during the UO Summer Teaching Institute.
Online Instructional Design
Online course development at the University of Oregon is grounded in collaboration, combining the skills of faculty and instructional designers to offer online courses to students on campus and beyond. The partnership required to develop high-quality online courses begins and ends with the world-class disciplinary expertise of UO's faculty. Faculty efforts are supported and guided by instructional designers with expertise in online pedagogy, educational technology, media production, nationally recognized quality standards, and universal design principles. The university has dramatically expanded capacity for online course delivery by hiring personnel and establishing UO Online as a new unit within the Office of the Provost to coordinate resources and development of online courses and degree programs.
Summer Teaching Institute
The Summer Teaching Institute is an annual event sponsored by the Office of the Provost and hosted by TEP and UO Online. The week-long institute brings faculty together from all parts of the university to discuss teaching practices and prepare for the next academic year. Faculty participate in specialized workshops about specific topics and large-format core skill workshops designed for a shared understanding of teaching practices and teaching excellence.
"The teaching institute gave us the opportunity to think deeply about our new curriculum, particularly a new course that all CHC first-year students will take. It was stimulating and inspiring to connect with faculty from across campus. We are motivated to develop a new engaged, inclusive, and research-led curriculum in the CHC."
— Gabe Paquette, dean of the Clark Honors College
2019 Summer Teaching Institute
Graduate Teaching Initiative
TEP's Graduate Teaching Initiative offers structured and rigorous pathways for UO graduate students to develop as instructors. Graduate students participate in individual and small-group teaching consultations, draft a teaching portfolio, observe classes taught by faculty members and peers, and attend various workshops and conversations on teaching. Graduate students who complete the series of core requirements earn a certificate of completion from the initiative and have the opportunity to develop a special project to earn an advanced certificate of completion.
"I think the Graduate Teaching Initiative has been helpful on multiple fronts—not only for improving my teaching, but also my appeal on the job market. In a competitive job market like ours, having well written teaching materials, I think, can make all the difference. 
—Thibaud Henin, Advanced Certificate of Completion, 2017
Since 2017, UO has been involved in designing and implementing profound changes to its teaching evaluation system. Hundreds of members of the faculty, students, and administrators have contributed to this project, which began in the University Senate and has received national attention for its cutting-edge work to address research about bias reflected in student evaluations of teaching and the need for a fairer and more transparent system. UO's innovative, qualitative, and criteria-based system includes tools that are now being used by other universities as higher education nationally and globally seeks better ways to do this work.
The Office of the Provost and other units across campus recognize outstanding faculty members who are making distinctive contributions to teaching and learning at UO. Each year, students, staff, and faculty submit nominations for faculty members who go above and beyond to support their students' learning and collaborate with colleagues to further the teaching mission of the university.
Distinguished Teaching Awards
The Distinguished Teaching Awards are regarded as the university's highest teaching honor. These prestigious awards recognize faculty members who consistently demonstrate exceptional teaching that is inclusive, engaged, and research-led. The selection committee typically awards one Herman Award for Faculty Achievement and one Ersted Award for Distinguished Teaching each year. As many as four additional faculty members may be recognized for their Specialized Pedagogy or Outstanding Online Education. Career instructional and tenure-track faculty are eligible for nomination.
The Williams Fellows
Williams Fellowships recognize excellent teachers who have demonstrated an extraordinary commitment to undergraduate education and improving the learning process for students. The fellows challenge their students academically, create engaged and inclusive learning environments, and foster collaboration across disciplines. While the Distinguished Teaching Awards celebrate teaching excellence in the classroom, the Williams Fellowships celebrate excellent teachers who collaborate and innovate outside the boundaries of a course.
2019 Distinguished Teaching Awards
Each year, the University of Oregon recognizes a select group of faculty for excellence in teaching. Nominations come from faculty, students, and staff, with the names of the nominees and the award winners kept confidential until announced in mid-May.
Ten faculty members were selected for the 2019 Distinguished Teaching Awards, recognizing them for exceptional teaching that is inclusive, engaged, and research-led.
2019 Distinguished Teaching Award Recipients
2019 Williams Fellows
Since 1999, the Williams Fund has recognized exceptional faculty members with Williams Fellowships. When Tom and Carol Williams established the fund, they wanted to recognize fresh thinking and the people who stepped beyond the status quo at the university.
Williams Fellows embody the spirit of innovation in teaching and learning, but also represent the collaborative ideal of reaching across disciplines and departments to create change and opportunities for students.
In 2019, the Williams Council selected two faculty members, Julie Haack and Mike Urbancic, as Williams Fellows, adding to a long list of exceptional faculty members.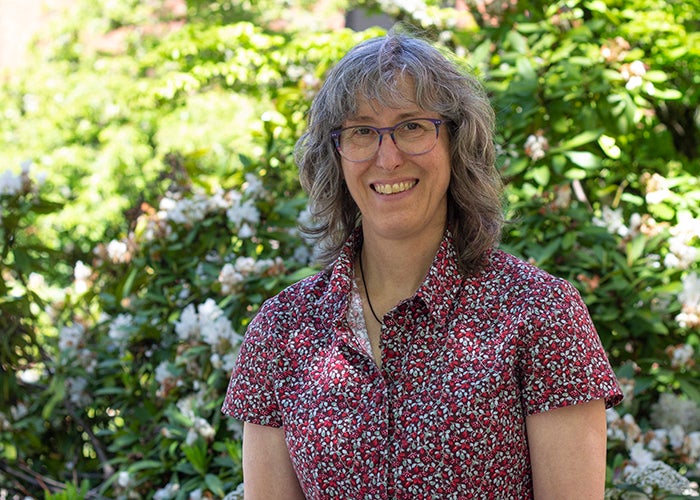 Julie Haack
Assistant Department Head and Senior Instructor II
Department of Chemistry and Biochemistry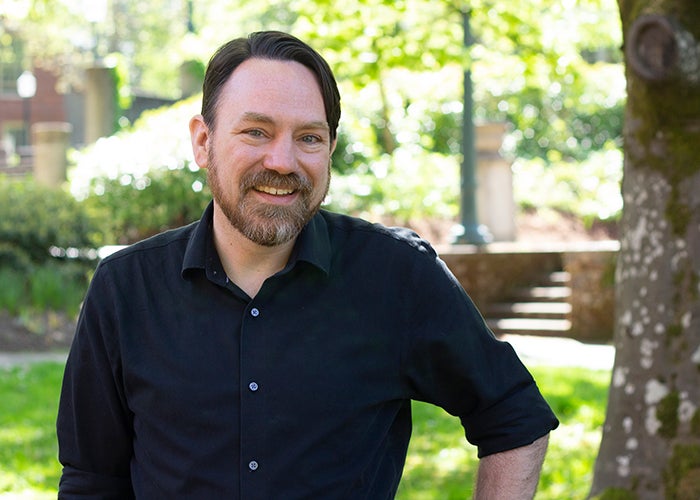 Mike Urbancic
Senior Instructor I and Co-Director of Undergraduate Studies
Department of Economics
As part of its deep commitment to research and teaching, UO leverages faculty teaching insights to enhance the university's academic mission, develop innovative approaches to curriculum and exciting new degree programs, and cultivate a distinctive learning culture that shapes students' experiences.