Course Approval Process
Due to recent changes to the course approval process, additional resources and links are being created and will be completed soon. If you have questions, please reach out to Carolyn Vogt.
Before you begin the course approval process, please refer to the Curriculum Timetable and consult with your department and college curriculum committee about internal deadlines and processes. In addition, faculty should be mindful of steps toward successful and inclusive course development. Consult with the Teaching Support and Innovation website for those related resources. All other resources are included in links below.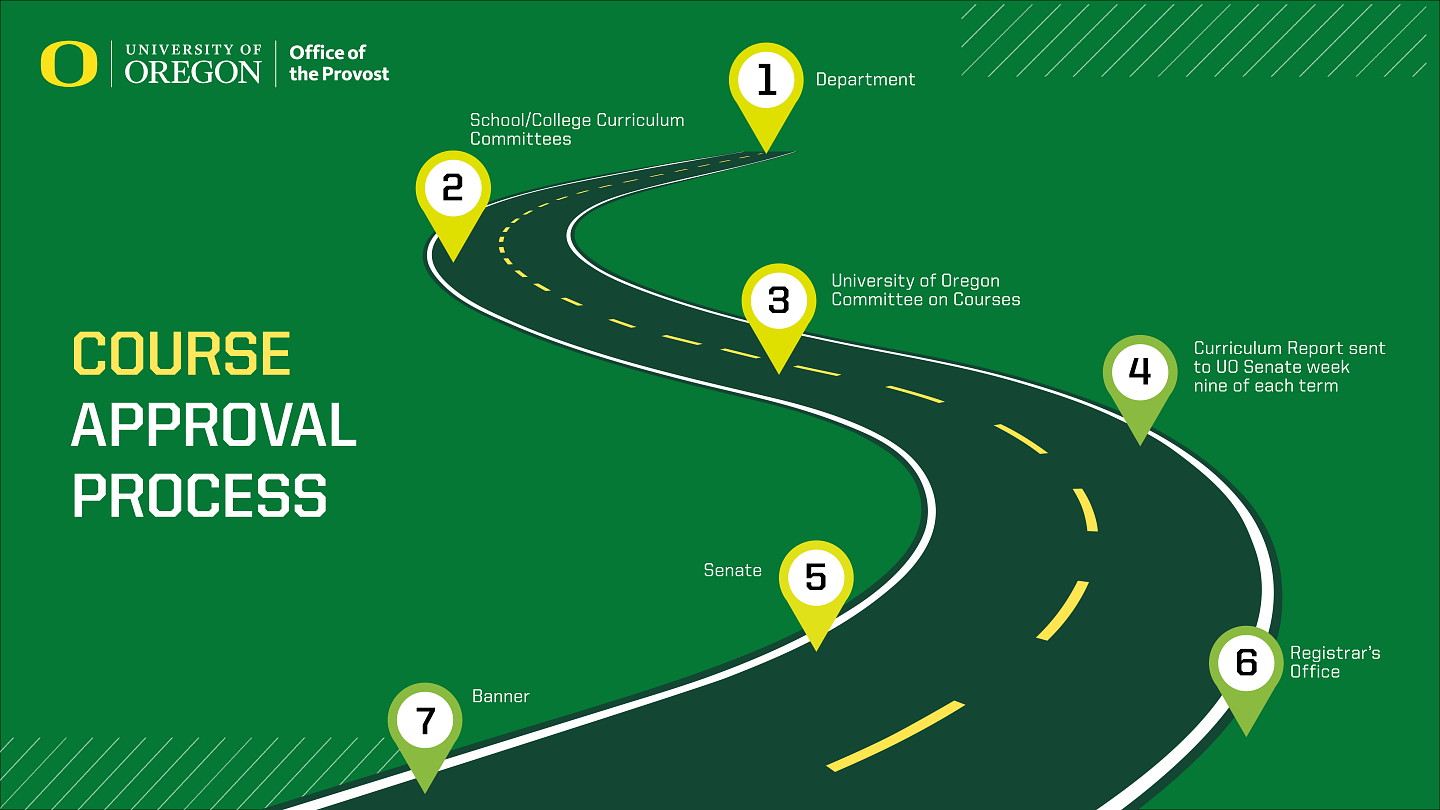 1. Speak with your department
Speak with your department chair and relevant faculty to gain consensus for the course, its learning objectives, syllabus and other course-related elements. Use the key tools to ensure all course elements follow policies and best practices. Submit the course and sample syllabus in CourseLeaf for review by your college's Curriculum Committee. If you need access to Courseleaf, email Carolyn Vogt.
2. Coordinate with your college's Curriculum Committee
The committee reviews course proposals for contributions to college programs and purpose. The committee also reviews the course's sample syllabus to ensure fulfillment of university policies. They also guide a course through all proper college governance channels before submitting it to the University Committee on Courses.
3. University Committee on Courses (UOCC)
When a college curriculum committee approves a submission in Courseleaf, the course moves to the UOCC. The UOCC approves items in the course proposal and example syllabus that are constant every time the course is offered, and ensures accreditation standards are met and UO policies are fulfilled. The UOCC also interfaces as necessary with the Division of Undergraduate Education and Student Success, the Office of the Registrar, the Office of the Provost, and other Senate committees.
4. Curriculum report
The curriculum report is a summary of all course proposals, denied proposals, pending proposals, withdrawn proposals, dropped courses and other curricular matters. It is sent to the senate during week 9 of each term. 
5. Senate approval
The UO Senate has final approval of the curriculum report and votes on it during the last meeting of each term. You can refer to the report to determine if your course was approved or not.
6. Registrar's office
The Registrar's Office makes the required changes and/or builds new courses in Banner. The changes appear in the next cycle of the UO Catalog.
7. Banner
Changes made by the Registrar's Office go live in Banner.
Course approval (both new courses and changes to courses) are governed by the Senate Task Force Report on Course Approval, approved March 9, 2023.