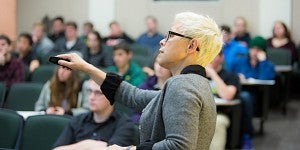 Supporting
Faculty Success
Resources for leadership, teaching, mentorship, and research.
An excellent faculty is fundamental to promoting and sustaining the highest standards of academic excellence across the university. Faculty success is also inextricably connected to student success and thus tied to the core of our academic mission.
The Office of the Provost is committed to supporting faculty success in a culture of inclusive excellence grounded by the pillars of teaching, leadership, research, and mentorship.
Our goal is to have a transformative impact on faculty development across the stages of their careers with a focus on building a diverse and inclusive academic home and providing support for faculty development and excellence for all faculty - those new to campus and to their careers, those newly promoted and/or tenured, and more senior faculty wanting to hone their skills.