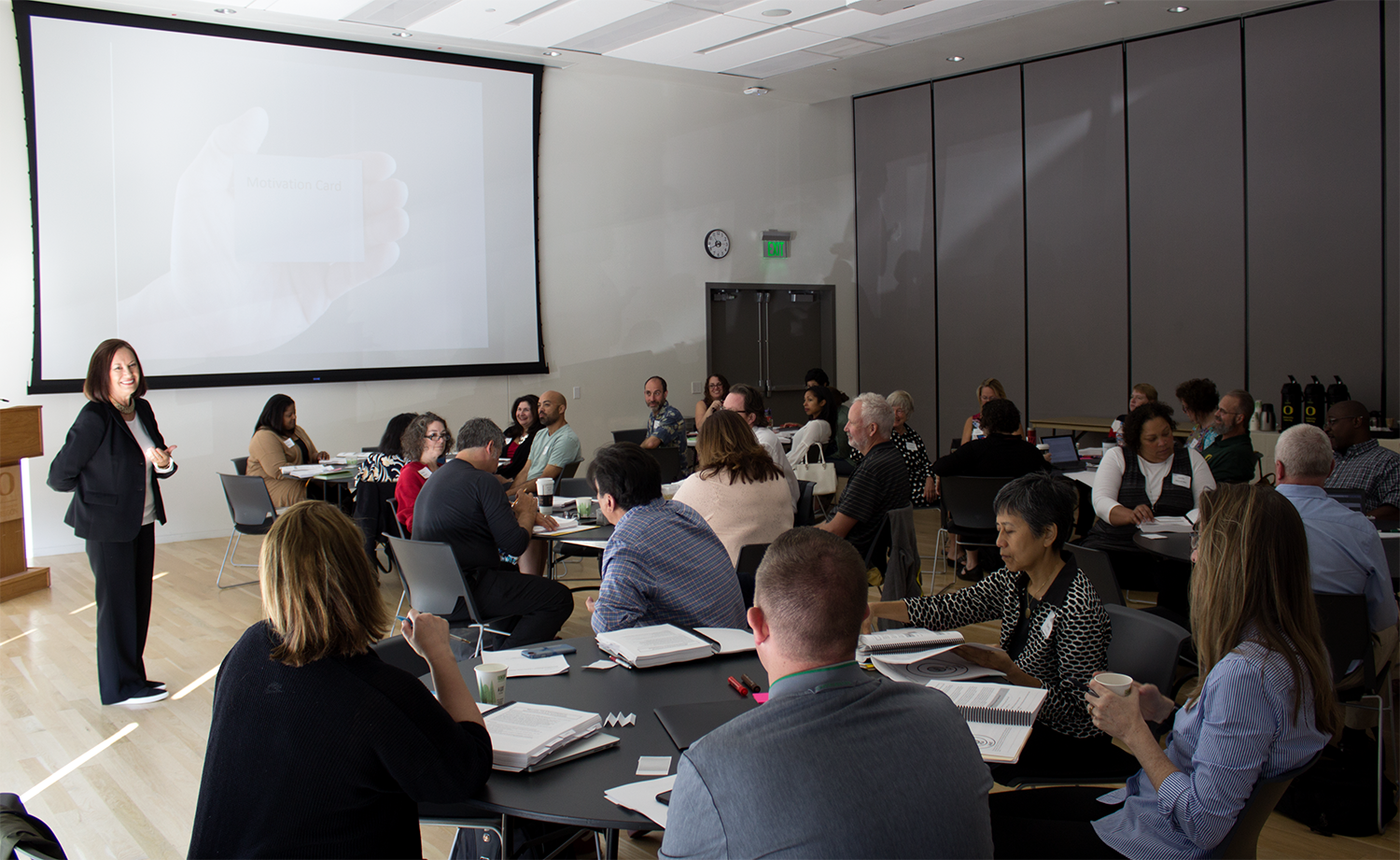 During the 2015/16 academic year, following several senior leadership hires, the president and provost questioned the lack of applications coming from University of Oregon women and faculty of color. In response, Senior Vice Provost Susan Anderson and Vice Provost for Portland Jane Gordon assembled a group of campus leaders to discuss the opportunities and challenges the diverse group had encountered.
There were approximately five meetings across the 2016/17 academic year which were well attended by campus leaders including tenure-track faculty, non-tenure-track faculty and officers of administration. After many good discussions, the group decided to focus on mentorship and leadership training. Dean of the Lundquist College of Business, Sarah Nutter, presented the Legacy Leadership program that she participated in at George Mason University. The group loved the idea and that it was a year-long cohort program. Newly hired Dean of the Law School Marcilyn Burke later shared her similar experiences in the year-long Houston's Cougar Chairs Leadership Academy.
A small diverse team volunteered to move the proposal forward, and the UO Leadership Academy was born.
Philosophy
The UO Leadership Academy intends to frame leadership as the productive use of agency, influence, and relationships to enact positive change. The core assumptions offered below capture the spirit of how we're hoping to frame leadership:
Leadership does not simply exist at the top—it is not automatically about authority, power, or hierarchy. In fact, leadership is often found in those working and serving outside/beyond formal positions or designations. Effective leaders emerge at all levels of an organization, and recognize the need to collaborate with others to achieve any sustainable action.
Leadership is not innate or reserved for certain people—it can be studied, learned, and developed by anyone in a department or organization. Leadership applies to anyone invested in serving others: serving the team, an organization, or the broader community.
The focus of an effective leader is on the growth and well-being of the people and groups to which they belong.
Leadership also emerges out of a collective's service to others—do those served grow as people; do they become healthier, wiser, more autonomous, and more likely to become active citizens themselves?