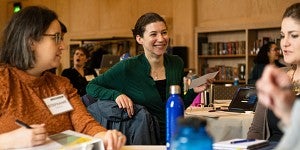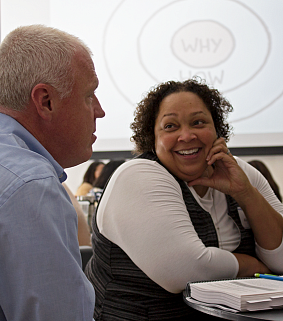 The UO Leadership Academy is a participatory leadership development program for administrative and academic leaders at the UO.
The academy aligns with the university's commitment to diversity, equity, and inclusion—it is integral to our collective learning and our effectiveness as leaders. The academy serves the university's broader mission by developing administrators and faculty who feel empowered to address complex challenges and work collaboratively to cultivate more equitable environments across (and beyond) campus. 
The program believes that the integration of diverse backgrounds, identity characteristics, beliefs, and experiences is valuable to enhancing group effectiveness and learning. It also operates under the assumption that mistakes and failures will occur along the way.  However, with a shared focus on learning, mutual development, and accountability we believe we can make progress in our change efforts.
A diverse group of 30 participants, made up of mid- and senior-level changemakers, will be selected to participate in each year's cohort through a competitive application process. Applications for the 2022-23 cohort are now closed. 2023-24 cohort applications should open in November and will be due January 2023.
Questions about the UO Leadership Academy may be directed to leadershipacademy@uoregon.edu.

"A leader is not necessarily a person who holds some formal position of leadership or who is perceived as a leader by others. Rather, a leader is one who is able to affect positive change for the betterment of others, the community, and society. All people, in other words, are potential leaders."
— Higher Education Research Institute
What our previous members are saying...
"It is not an understatement to say that participating in the Leadership Academy transformed my life. The experience helped me truly understand how leadership is not a position, it's a practice. The Leadership Academy provided me with the knowledge, tools, and skills I needed to make positive impact my community through leadership."
— Nadia Singh, Associate Vice President in OVPRI

"You can't transform the culture with a seminar or video or survey instrument. But we have a chance if we spend an academic year getting to know and appreciate one another. This program will build important and lasting connections between leaders from all levels in the organization."
— Mark McCulloch, Business Affairs Office
"On day #1 of the Leadership Academy, one of the facilitators challenged me to challenge myself. I was a bit skeptical. But I am so grateful for that push. By the time I was mid-way through the program, I realized that encouragement had been what I needed to answer the 'what's next' question playing in my mind that I had been ignoring. I miss many things about the position I held when I entered the Leadership Academy, I also know that with the tools that were imparted to me, I am excited for my new chapter."
— Nicole Commissiong, Office of Investigations and Civil Rights Compliance