Over the past year, the 2022 Provost Fellows have been working to advance teaching, leadership, mentorship, and academic freedom at the University of Oregon. Learn how their projects have progressed and consider exploring the resources they recommend to instructors looking to grow in their careers:
Through scholarly reviews and emergency practice studies, we have learned about the use of various teaching modalities over the past few years due to the COVID-19 pandemic, along with the associated benefits and challenges. A strong consensus has emerged that the pandemic-induced exposure to online learning, both synchronous and asynchronous, has increased interest in and acceptance of diverse teaching modalities such as hybrid and hyflex, for both faculty and students.  
However, challenges persist in aligning the use of these emerging modalities with effective pedagogical practices to ensure student success beyond accessibility and flexibility. Our interviews with colleagues at peer institutions have revealed diverse approaches to adopting and maturing these modalities. Nevertheless, a common thread is clear: Peers strive to base decisions on data-driven evidence demonstrating the relationship between teaching modality use and teaching excellence, as well as on faculty needs. The UO shares similar goals, and our next step is to learn about UO instructors' experiences and insights. We plan to conduct three focus groups with faculty who have adopted these emerging modalities. 
We aspire for this project to influence UO's strategic plans and future resources for technology-enhanced teaching. Our goal is to use the knowledge we gain to inform our decisions as we enter a new phase of developing strategies that enhance accessibility and support student success.
This experience has been tremendously valuable. As an educator, I have always been enthusiastic about adopting new technology and tools to enhance my teaching. The process of reviewing the current literature, engaging in discussions with colleagues, and interviewing leadership faculty from peer institutions has been truly inspiring. Witnessing the level of dedication to student success that underpins the efforts and thinking about teaching modalities is both humbling and motivating. In addition, my participation in the 2022 Online Learning Consortium's Accelerate conference has opened my eyes to the abundance of online learning tools that are available.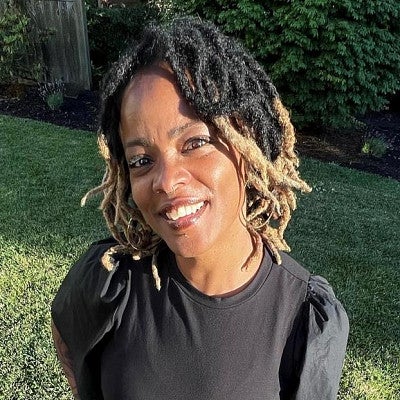 There are 21 Black tenure-track faculty across campus, roughly 2.7 percent of all faculty. The majority of those faculty are Black women.  
My goal is to facilitate the growth and development of the Black Faculty Collective by grounding it in mentorship. The recruitment and retention of Black faculty at UO has always been a challenge. The narrative around the "revolving door" of Black faculty often focuses on a lack of community off-campus, but qualitative data suggests that a lack of community on campus is a significant contributor to the departure of Black faculty and/or why the job market remains an ever-present threat.
My objective is to establish the Black Faculty Collective as a space that attracts current and future Black faculty to the UO. We need to develop a sense of meaningful camaraderie among Black faculty that extends beyond social events. Creating mentorship networks is key. I believe mentorship is the self-care of professional development. We do not prioritize it in the same ways as research, teaching and service, but it is crucial to our professional advancement. Many faculty don't lean into their mentorship networks until they are in crisis or in critical moments of their professional careers, such as reviews, tenure or promotion. The BFC has the potential of grounding the interconnectedness of Black faculty on campus through formal and informal mentorship relationships. 
With that in mind, I scheduled meetings with assistant and advanced associate Black faculty from various units across campus both individually and collectively to assess their needs and desires. I met with the chairs of several assistant professors with the objective of developing a path toward tenure. I also hope to schedule an end-of-the-year summit or retreat to determine our collective mentorship, professional and personal goals.