2018 Distinguished Teaching Award Winners
Melissa Baese-Berk – 2018 A.J. Ersted Faculty Achievement Award for Distinguished Teaching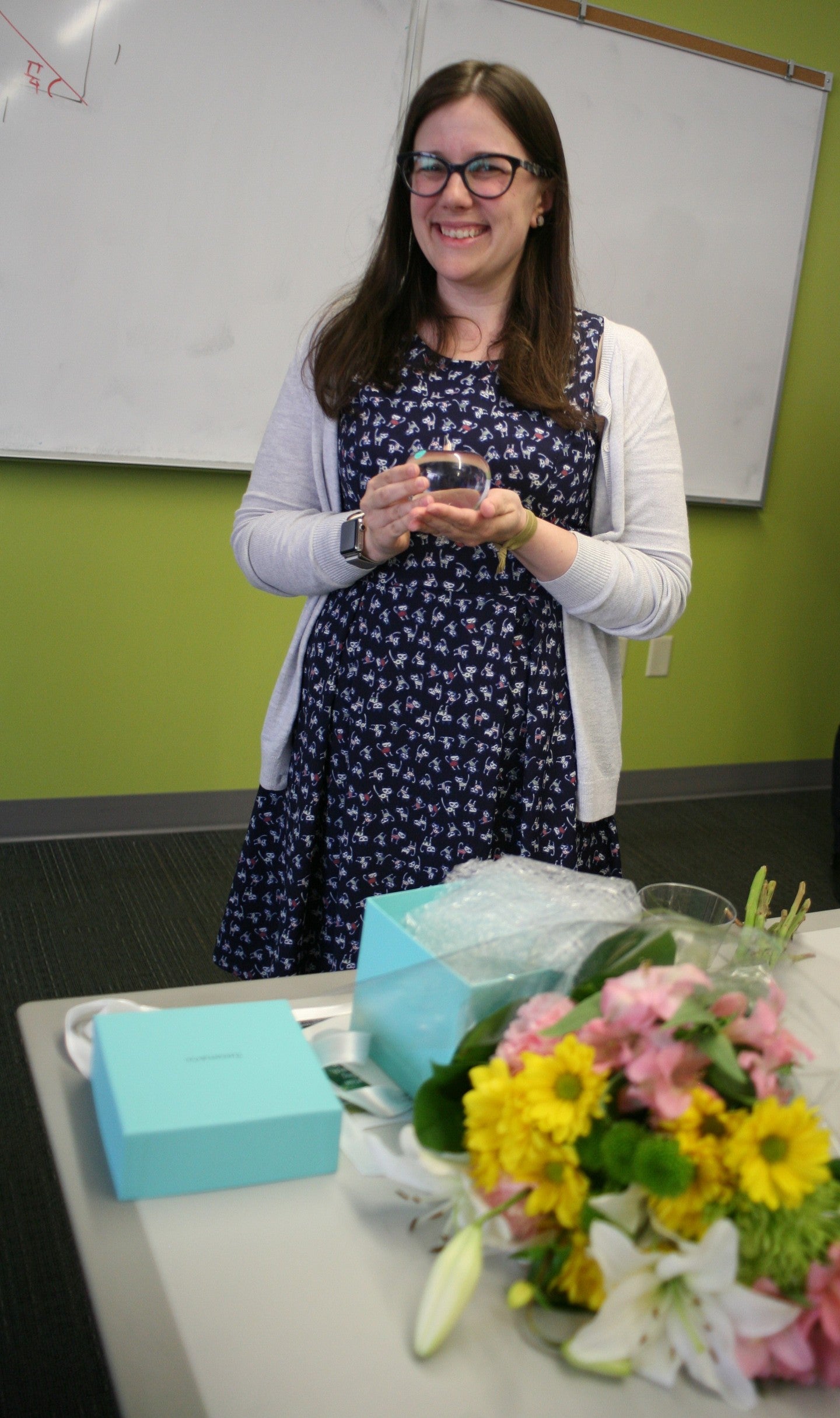 Professor Melissa Baese-Berk's research focuses on phonology and phonetics, typically examining speech perception and production, with special attention to non-native speakers and listeners. Her work has specifically addressed sources of variation in production and how that variation influences listeners in perception. She has also worked extensively on how various aspects of the perception and production systems interact. She is also the Director of the Second Language Acquisition and Teaching (SLAT) Certificate Program at the UO, and is the undergraduate advisor for the Department of Linguistics.
Baese-Berk teaches a number of courses ranging from general education courses and introductory courses for the linguistics major to graduate seminars and advanced research methods courses. She teaches the foundational 400-500-level introductions to second language acquisition, one for majors and the other for future teachers.
She began teaching in the fall of 2014 LING 201, a small class which she grew into a larger one for the area of linguistics. In this course, she incorporates online videos that bring to life many of the key points from the textbooks, especially illustrating crucial elements of nonstandard ways of speaking associated with geographical dialects, socio-economic classes, ethnic varieties, and second language learners from various backgrounds. The five times she has taught this course represent the department's top five teaching evaluations on record.
Students comment on her teaching abilities and organization, saying, "The scaffolding of material and the order in which we've covered material have been fantastic. The way we build on ideas reinforces previously learned concepts." Another student says, "Professor Baese-Berk is an excellent instructor. She is always helpful and respectful to her students. I really enjoyed her teaching style and high energy during class."
Baese-Berk is an exceptional mentor for both graduate and undergraduate research. She has had upwards of ten undergraduate RAs at a time in her lab. Her success in engaging them in her research has led to two recent successful NSF Research Experience for Undergraduates.
In recognition of her excellent teaching abilities and special manner to engage students in the learning process, Melissa Baese-Berk is the 2018 recipient of the A.J. Ersted Faculty Achievement Award for Distinguished Teaching. 
Mark Carrier – 2018 Thomas F. Herman Award for Specialized Pedagogy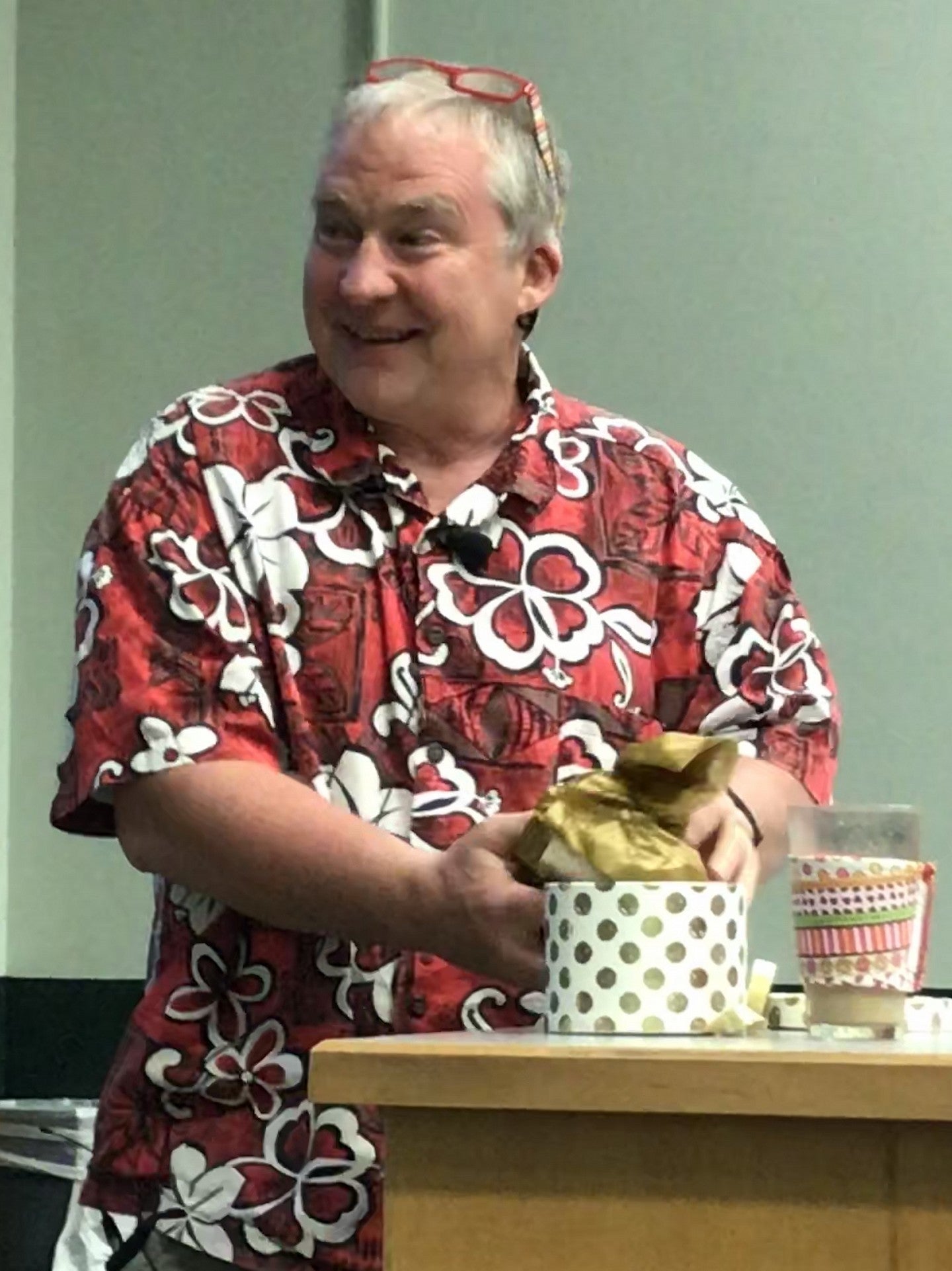 Mark Carrier is a senior instructor in the Department of Biology where he specializes in teaching undergraduate general biology courses to hundreds of students each year. In the Biology 212 course, Carrier expertly incorporates evidence-based teaching practices and current scientific articles into classes of 300+ students. Through these techniques in class, as well as consultations during numerous office hours, Carrier masterfully guides students to think critically and apply key concepts to new scenarios. 
Carrier also enthusiastically and extensively serves as a mentor to the biology department's undergraduate teaching assistants and graduate employees. He goes out of his way to coach these students in sound pedagogy, and they (willingly!) engage in exercises aimed at making them more effective teachers. More than 40 of these students have chosen to continue to work with Carrier for three terms or more, and many have gone on to become healthcare professionals or teachers.
Furthermore, Carrier has developed a graduate course called Teaching Science, which familiarizes future science educators with evidence-based teaching practices. These practices are the same ones that Carrier has so masterfully incorporates into his own courses, as evidenced by exceptional peer reviews of his teaching from faculty in the Science Literacy Program. 
Students agree that Carrier is an outstanding instructor. According to one student, "Mark was probably my favorite science teacher ever. He is very challenging expecting students to really apply critical thinking and knowledge towards science, but I learned so, so much. [He] had an amazing ability to make topics interesting and applicable to life as well as presenting them through a lens that was full of passion and appreciation for the complexity and beauty of life." Numerous other student comments echo this sentiment.
Carrer is a 2016-1017 Scientific Teaching Fellow with the Yale Center for Teaching and Learning, a recipient of the 2013 William's Foundation grant, and has won the UO Department of Biology's Faculty Teaching Award twice.
In recognition of his achievement and expertise in the area of undergraduate instruction in biology, Mark Carrier is a recipient of a 2018 Thomas F. Herman Award for Specialized Pedagogy.
Anita Chari – 2018 Thomas F. Herman Faculty Achievement Award for Distinguished Teaching
Anita Chari, associate professor of political science, is a political theorist focusing on critical theory, the Frankfurt School, Western Marxism, relations between somatics and politics, and contemplative and sensate pedagogies. Whether teaching introductory undergraduate courses or graduate seminars, Chari practices a distinctive and conscious pedagogy that combines analytical rigor, mindfulness, creativity, and inclusivity to create a unique and transformative educational experience for students.
Chari continually hones her pedagogical approach using evidence-based, best practices. A member of the UO Teaching Academy, she has participated in the UO Working Group on Active Learning and has trained in the national Inside-Out program for teaching in the prison context.  A member of the Association for Contemplative Mind in Higher Education, she brings her extensive training in transformative education, embodiment practices, and contemplative practices into the classroom.
One student wrote about Chari, "[her] unique and genuine style of teaching is unlike that of any professor I have had the opportunity of learning from before. I continue to be amazed at her ability to lead us in connecting with the creative and intellectual parts of ourselves and combining rather than separating these parts. I also greatly admire her commitment to encouraging us to engage with the political, through our stories and writing, and those of others. […] I do believe every student should have the opportunity to take a class from her."
In recognition of her excellence in teaching, Anita Chari is the recipient of the 2018 Thomas F. Herman Faculty Achievement Award for Distinguished Teaching.
Hanan Elsherif – 2018 Thomas F. Herman Award for Specialized Pedagogy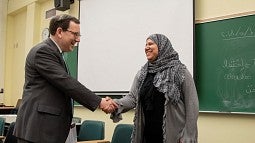 Hanan Elsherif is senior instructor in the Department of Religious Studies, where she specializes in teaching Arabic. Since joining the University of Oregon in 2011, Elsherif has offered Arabic language courses at all levels. Having observed her at work, one of Elsherif's colleagues praised her as "a master in the classroom. She uses a wide range of instructional approaches and strategies, from inductive aural and visual learning, small group grammar work, to lectures, in order to engage students with different learning styles and needs. She conducts fast-paced, lively classes using an array of teaching materials that she herself has created."
Students are deeply impressed with the way Elsherif challenges them with difficult language materials while creating a comfortable and supportive learning environment. Many students have noted the great amount of learning that occurs in her courses, with one student commenting, "I learned far more than I knew I could!" Her students describe Elsherif's approach as "warm," "patient," and "caring." She is clearly making a lasting impact on their lives. Said one student, "I know I will keep in touch with her after graduation," and her department head has also commented on the many UO alumni who have spoken to him about the impact Elsherif has had on their lives. 
Elsherif is not only an exceptional classroom teacher, but she is also making a significant contribution toward establishing UO as an important site for Arabic language instruction nationwide. She hosted an American Council of Teachers of Foreign Languages training workshop at the UO, where Arabic language instructors from top US universities gathered to receive the necessary training to be certified to conduct proficiency interviews. 
In recognition of her achievements and expertise in the area of Arabic language instruction, Hanan Elsherif was a recipient of a 2018 Thomas F. Herman Award for Specialized Pedagogy.
Melissa Graboyes – 2018 A.J. Ersted Award for Specialized Pedagogy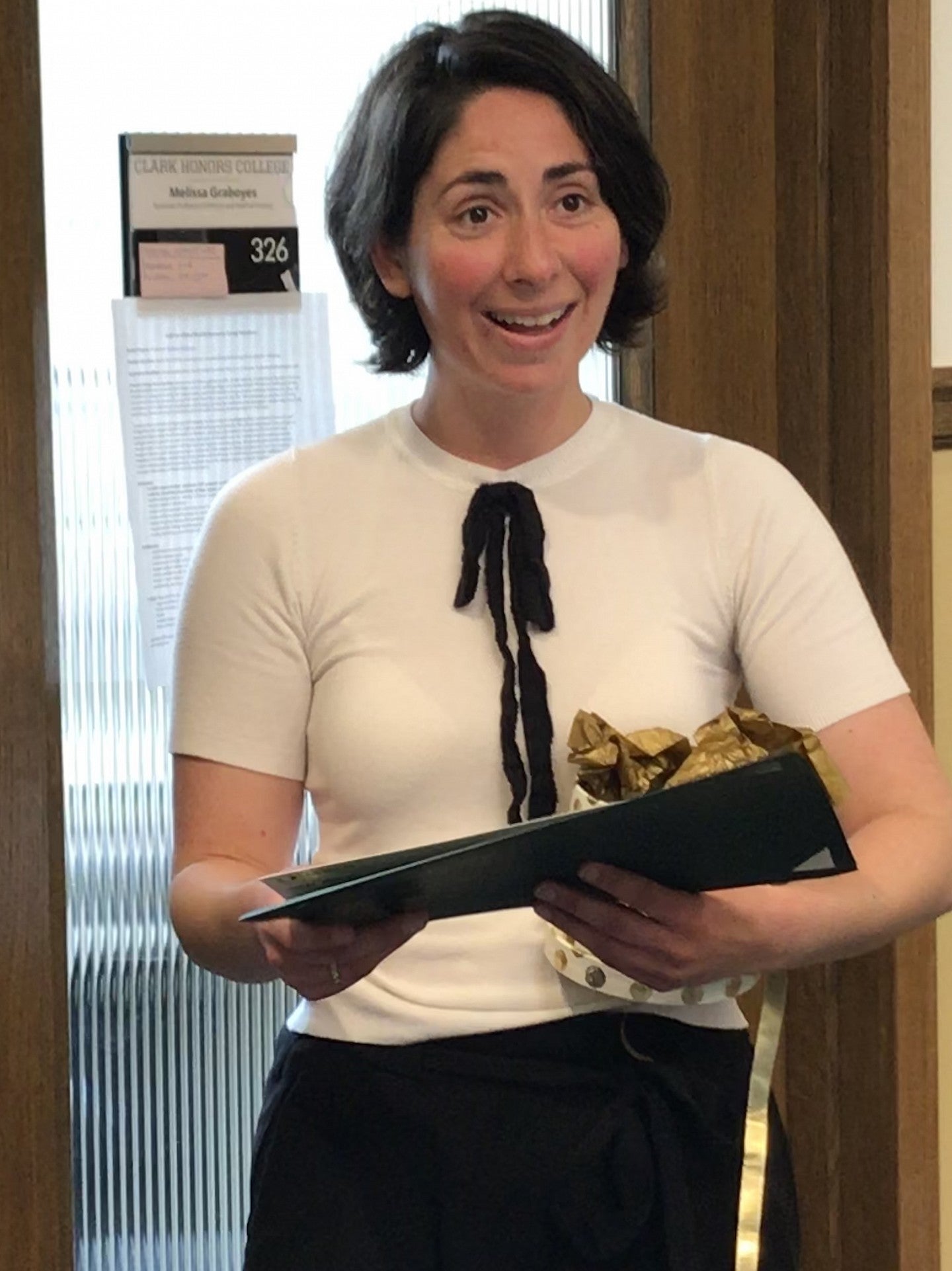 Professor Melissa Graboyes is a scholar of the history of medicine with a specialty in African studies. She helped direct African studies and led the development of the African studies and global health undergraduate minors. She fosters high-impact, interdisciplinary research instruction for honors college students, crucially guiding them towards expertise in socially-responsible independent and collaborative research practices.
She teaches a unique, research-based course on contemporary medicine and medical history in collaboration with the Oregon Health Sciences University. She leads interdisciplinary undergraduate research groups working throughout their undergraduate education on global health problems, from malaria to Zika. She developed a human subjects training workshop for honors college undergraduates, and provides students with her own research-in-progress as part of their course materials. 
Students comment on her attention to their research needs, "[She] provided us with so many resources to succeed in the class," and "Professor Graboyes is an excellent professor who is extremely knowledgeable in her area. She was able to answer just about any questions that students had, and if she was unable to answer them in the moment, she wrote them down, did some research, and updated us next class." In addition, one student presciently wrote, "I feel the research and reading skills she taught us in this class will prove valuable throughout the rest of my education."
Proactive in addressing questions of power and difference throughout liberal arts and sciences disciplines, including medical anthropology and religious studies, she alerts students to think about the ways that disciplines produce perspectives, as well as ways to challenge and/or conjoin those perspectives.  She involves students in the campus-wide growth of global health studies, including study abroad in Zanzibar and Ghana.
Her devotion to helping students learn about global health has given her a teaching portfolio nearly unique in the honors college for its interdisciplinary depth and effective undergraduate research training.
In recognition of her achievement and expertise in interdisciplinary, research-oriented, socially impactful undergraduate education, Melissa Graboyes is the 2018 recipient of the A.J. Ersted Award for Specialized Pedagogy. 
Philip Matern – 2018 Thomas F. Herman Award for Outstanding Online Education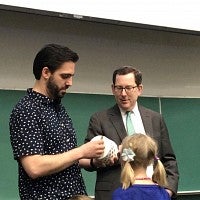 Philip Matern is a firm believer that we learn by doing. A career instructor in human physiology, he puts this principle to practice in each of his courses, stressing that belief by incorporating small group work, class discussions, and regular in-class feedback from students on core conceptual questions. Matern is a strong proponent of research-based pedagogical practices. He assesses himself through nationally-recognized tools and constructive feedback from his peers, using them to improve his already-excellent instruction.
When venturing into online coursework, Matern maintains these high, but attainable, expectations of students and himself. Teaching the inaugural distance offering of HPHY 212: Evidence, Inference, and Biostatistics, he pioneered online coursework in the human physiology department. Prior to his experience, Matern engaged in multiple workshops on research-led teaching for both online and face-to-face courses. As a result, the course included interactive video lectures and digital office hours, humanizing an experience that, without face-to-face time, has the potential to leave students feeling disconnected from their instructor.
This humanizing element, also a focus for some of the professional development he engaged in, was clear from student evaluations. One wrote that "[t]he video lectures were well thought out and delivered well. The instructor was always very quick to respond to me and very helpful. He was really approachable and he made me feel like no matter what the question or concern was, it was important. I feel like he really wanted us to understand the material and do well in this course."
Science need not be a dispassionate subject, and Matern's dedication to all of his assignments, but in particular to the challenging prospect of online offerings, are a case in point.
In recognition of his innovation and creativity in implementing excellent online learning experiences, Philip Matern is a recipient of the 2018 Thomas F. Herman Award for Outstanding Online Education.