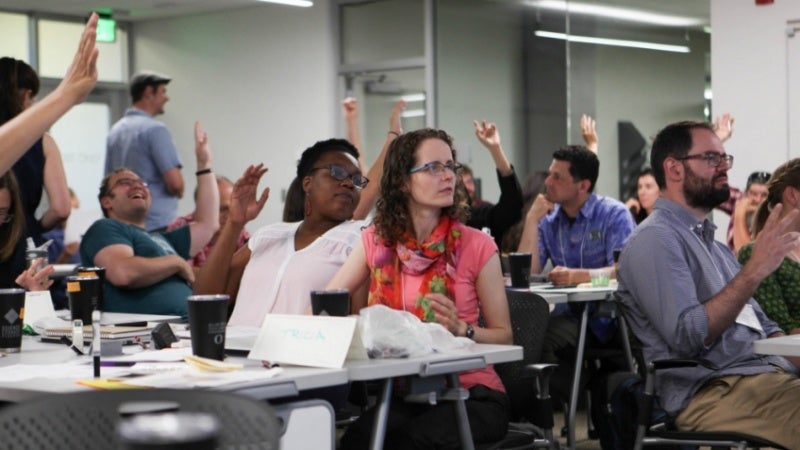 Provost's Teaching Academy
The Provost's Teaching Academy seeks to be a key driver of UO's teaching culture, advancing a vision of undergraduate education that's inclusive, engaged, and research-led—both inflected by the university's research mission and connected to research on how people learn. It is a collaborative effort of the Division of Undergraduate Education and Student Success, UO Libraries, the Science Literacy Program, the Teaching Engagement Program, and the Office of the Provost.
Academy members are recipients of distinguished teaching and advising awards, faculty who've participated in UO's premiere teaching development activities, and fellows in our Communities Accelerating the Impact of Teaching (CAITs)—faculty learning and leadership groups that investigate topics of timely interest through lenses of both pedagogical and institutional change.
The Academy meets once a term to address timely issues with the Provost and Executive Vice Provost, offering senior leadership the chance to hear the advice and perspectives of UO's teaching leaders. It seeks to ensure its members can be models for and informed ambassadors to home departments, and it acknowledges and celebrates the value and dignity of great teaching.
"The University of Oregon is an institution that will always seek creative ways to enhance the education of our students and promote the very best ways we teach. Our Teaching Academy plays a pivotal role in making sure our faculty work as a team to focus on, develop, and improve teaching practices that help students identify achievable paths to research and academic excellence."
– Patrick Phillips, Provost and Senior Vice President at the University of Oregon
History of the academy
The Teaching Academy was launched in 2016 by a six-person advisory board from units across campus. This founding board recognized teaching excellence as the center point of urgent campus priorities: supporting student success, enriching the undergraduate experience, and revitalizing the core curriculum.
The idea for the academy was informed by a Mobile Summer Institute on Scientific Teaching strategic planning session that board members attended, representing their various campus units. Participants in that session identified a campus-wide need to expand opportunities for faculty to connect with each other around teaching opportunities, challenges, and successes.
One of the initial goals of the Teaching Academy was to harness the collective power of faculty who had won distinguished teaching awards (sponsored by Tom and Carol Williams, A.J. Ersted, and Thomas F. Herman ) or who had participated in UO's premier professional teaching development activities, such as the Working Group on Active Teaching and Learning (sponsored by the Teaching Engagement Program, the UO Libraries Center for Media and Educational Technologies, and the Yamada Language Center) and Summer Institutes on Scientific Teaching (supported by Howard Hughes Medical Institute, National Science Foundation, and UO Science Literacy Program).
In Winter 2018, the Office of the Provost offered additional support to the year-and-a-half old group and committed to engaging with the academy as an advisory body to executive academic leadership. This ensured that teaching faculty have every opportunity to weigh in on institutional initiatives with teaching and students in mind.