June 8, 2021
Dear Colleagues,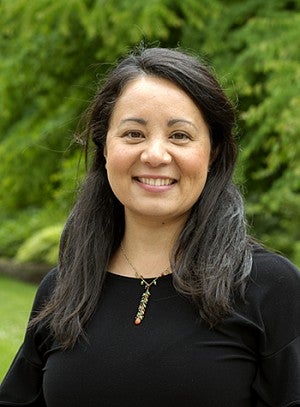 I am excited to announce that Professor of Counseling Psychology Krista Chronister of the UO's College of Education will be the new vice provost of graduate studies. Krista, who started at the UO in 2003 as an assistant professor, will take over the helm of the newly created Division of Graduate Studies on August 17, 2021.
Krista will report to Executive Vice Provost for Academic Affairs Janet Woodruff-Borden and will manage the overall daily operations of the division.
Krista has established an impressive record of leadership. Since joining the UO, she has worked diligently to improve students' educational access and training, placing an emphasis on underrepresented minority students' educational experiences. She was a research scientist at the College of Education's Prevention Science Institute, and has been an affiliate faculty member with both the Women's and Gender Studies and Indigenous, Race, and Ethnic Studies programs. Since 2017, she has been professor in the Department of Counseling Psychology and Human Services.
In 2020, she was named the director of training for the family and human services undergraduate program within the Department of Counseling Psychology and Human Services. She was the associate dean for academic affairs and equity, interim director of the HEDCO Clinic, and assistant dean for equity and inclusion. She also served as the interim director at the Center on Diversity and Community, as well as the director of training for the UO counseling psychology's doctoral program.
Krista's research focuses on two primary areas in the fields of psychology, human development, and public health. The first area dives deeply into the impact intimate partner violence has on women's educational, career, and economic development opportunities—something we have all seen that has far-reaching effects worldwide, especially during the pandemic. Her internationally recognized, research-intervention work led to the creation of one of the first (and few) group programs to promote mental health healing and career development for women experiencing abuse.
The other area of focus for Krista involves ongoing research—primarily with Filipino Americans and Filipino immigrants—that delves into understanding how to engage the social circles of abuse survivors so women can get help accessing resources, and ultimately prevent intimate partner violence in that community and beyond. Krista teaches this work to her doctoral and master's students in counseling and clinical psychology, prevention science, and couples and family therapy, as well as undergraduate students in the College of Education's Family and Human Services Program.
Among many accolades, Krista was the American Psychological Association's recipient of the 2019 John Holland Award for Outstanding Achievement in career and personality research, and the Equity and Inclusion Award for the College of Education. Also, she was the 2014 Emerging Leader Award winner for the association's Committee on Women in Psychology Leadership.
That same year, she earned both the association's Mentoring Leadership Award and the Outstanding Major Contribution Award for 2013 for The Counseling Psychologist for her work on vocational psychology and corrections. In 2012, she earned the then-UO Graduate School's Director of Graduate Studies Excellence Award.
Please join me in welcoming Krista to this important role. Additionally, I want to thank Andy Karduna, who served as the interim vice provost of graduate studies as we shifted the Graduate School over to the new model. Andy's ongoing commitment to the success of the entire UO mission has been nothing short of exemplary. He has been critical to the success of graduate studies in the current role and as associate dean of the Graduate School, and was instrumental in helping guide students through the pandemic. Andy will return to his faculty role as professor in the Department of Human Physiology.
Finally, I want to reiterate what I said in a March note to faculty. This move will streamline the administration of graduate studies so we can dedicate more resources to directly supporting our students within all UO schools and colleges. By moving graduate education under Academic Affairs, we will be able to offer more support and professional development in teaching and scholarly activities for both faculty and graduate students.
Please don't hesitate to reach out with any questions by sending an email to provost@uoregon.edu. Thank you for all you do for the University of Oregon. Take care.
Sincerely,
Patrick Phillips
Provost and Senior Vice President