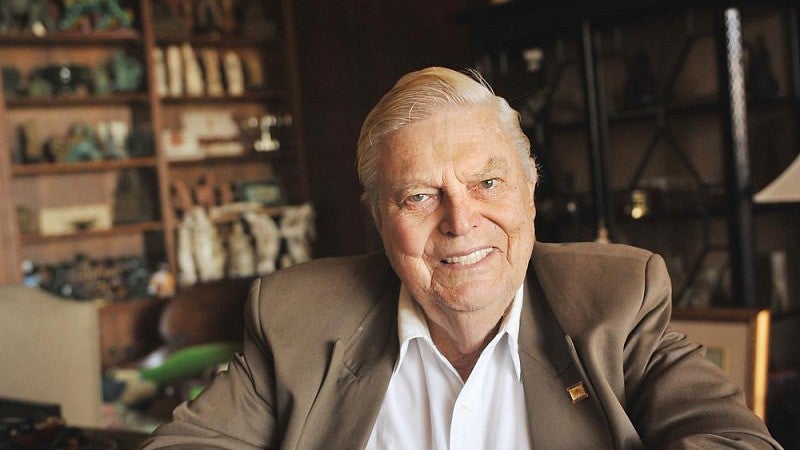 Our generous donor, Lorry I. Lokey
The Fund for Faculty Excellence awards are among the most prestigious honors bestowed on faculty at the University of Oregon. They are made possible by a generous gift from Lorry I. Lokey, who founded Business Wire, an international business news service.
A native Oregonian, Mr. Lokey grew up and attended school in Northeast Portland. His childhood wasn't easy, as he was raised in the difficult time of the Great Depression. Among his earliest lessons, his mother taught him the importance of saving money and giving back to the community. Along with his mom, his teachers at Alameda Elementary School and several of his high school teachers helped instill lessons in honesty, communication, and a devotion to learning.
As a successful businessman, Mr. Lokey is not shy about distributing a large portion of his wealth, especially to educational institutions across the globe. To date, he's donated more than $140 million to the University of Oregon.
The Fund for Faculty Excellence is one of the UO awards programs that is made possible by Mr. Lokey's support. Established in 2006, the Fund for Faculty Excellence is designed to support the university's strategic commitment to improve academic quality by rewarding faculty members for their creative work in research and scholarship.
Each year, more than a dozen faculty members receive a one-time award of $20,000 or research funds of $26,100.
Mr. Lokey has made it clear that he sees teaching as something that should be nurtured. "We must have top-grade men and women on our faculties to make this possible, and, as a result, it is important to give them financial and moral support," he says. "There is no vocation as important as teaching."