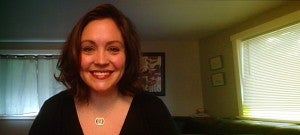 Annie Zemper
2020 | ERSTED AWARD FOR DISTINGUISHED TEACHING
"The most inspiring moments for me are when I see the change in a student that leads to a new future for them. You don't always realize it at the time, but I've experienced this on several occasions in my career so far. It's when I see a student ask a certain question in lab, stay after class to talk more, or just show up at office hours to delve into something, and it is a turning point for them. They get hooked."
Better science, better living
Zemper teaches biology in the College of Arts and Sciences and leads the Zemper Lab in the Institute for Molecular Biology. Its research focuses on small intestinal and colonic epithelial stem cell behavior.
"Through initiatives in multiple institutes, departments, and in the new Knight Campus, the university is pushing to advance science to improve the human condition, and that has always been a hope for my own research," Zemper says. "In my lab, I use learner-centered methods to train high school students, undergraduates, and graduate students to generate scientific hypotheses and design good experiments to test them. It is actually quite difficult to design a truly good experiment to test your hypothesis, but we are always working toward that goal" 
Collaborating in remote learning

"My guiding principle has been the same as it is for in-person learning. Generally, on the first day I tell my classes that we are going to work together. This is a partnership. For all of us to get the most of out of this journey, we will have to use patience and simply communicate with each other. No one is getting lost on our journey."

Classes with Zemper
BI 410/510
Stem Cells in Disease and Regenerative Medicine
BI 507
Seminars in the Life Sciences
"First, thank you to my wife and our four daughters for their support. Thank you to my students for showing up and asking the hard questions. Thank you for never being completely satisfied with the 'answers' you find in texts or in scientific journal articles. I would also deeply thank my colleagues in the Institute of Molecular Biology and the Department of Biology for pushing me to think about how to keep our science dialogue relevant, and for their continual and thoughtful guidance."

WHEN NOT TEACHING, WHERE ARE YOU?
---
With my wife and daughters. We are an "all-sports, all-the-time" family, so you can find me at the soccer pitch, the track, the softball field, the gym, the cross-country course, or traveling back and forth between them. We are also passionate fans of Oregon athletics, and you will always find us at Oregon women's basketball games!
FAVORITE HIGH SCHOOL CLASS?
---
A tie between choir and theater arts studio. I use aspects of visual performance I learned in these classes even today in my classroom teaching, or in my public speaking about my lab's research. 
WHAT MUSIC ARE YOU LISTENING TO?
---
Throughout the day I listen to Brandi Carlile, Janelle Monae, '90s hip-hop and my four daughters rehearsing songs from Hamilton for one of their many living room performances.