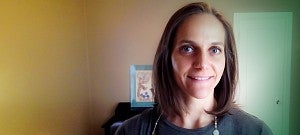 Maile Hutterer
2020 | ERSTED AWARD FOR SPECIALIZED PEDAGOGY
"My favorite thing to do here at the UO is to take students to Special Collections and University Archives at the Knight Library to look at medieval manuscripts from the Burgess collection. It is a rare and precious opportunity to be able to experience a medieval object with all of your senses. I always tell my students that they should allow themselves to experience wonder during this visit, and I have never been disappointed."
How they built it
Hutterer's expertise within the College of Design is medieval art, architecture, and urban development.
"Part of my work is to create new knowledge," Hutterer says. "Another part is disseminating knowledge, which is what I'm doing in my teaching. In my classes, I share my research and the research of my colleagues. I support the generation of new knowledge by others—this is how I see professional service, both to the university and through national and international organizations."
Meaningful remote learning

"I designed my remote seminar to give students maximum flexibility in establishing their own goals and outcomes. My sense is that the realities of working from home (or tele-studying) vary wildly, so what might be possible for one student isn't for another. By allowing students to establish the parameters for their own projects, my hope is that each student can leverage their own circumstances into a productive learning opportunity."

Classes with Hutterer
ARH 314
History of World Architecture I
ARH 316
Gothic Architecture
ARH 317
Romanesque Architecture
ARH 425/525
Topics in Medieval Art and Architecture
ARH 607/611
Graduate Seminar/Studies in Art History
"I would thank all the amazing teachers that I've had in my life, who through their collective efforts taught me what kind of teacher I aspire to be. Even my clarinet instructor from elementary school, who taught me about the importance of daily practice. What most stands out to me about these instructors is that they saw me as a whole person, and they challenged me in ways that transferred from the classroom into the rest of my life."

WHEN NOT TEACHING, WHERE ARE YOU?
---
I'm probably practicing Olympic weightlifting or doing CrossFit. The other place you might find me is in my kitchen baking cakes. Life is all about balance. 
FAVORITE HIGH SCHOOL CLASS?
---
Probably physics. I really enjoyed the puzzle-like quality to solving physics problems. To me, art history also has a bit of a puzzle to it. 
WHAT ARE YOU LISTENING TO?
---
Right now I'm listening to a lot of the podcast This Week in Virology. I also just finished the audiobook Eleanor Oliphant is Completely Fine, which I loved.