When it comes to remote instruction,
our faculty put students first
At UO, even a pandemic won't get in the way of student success.
Stories by Anna Glavash
Illustrations by Cheyenne Thorpe
As the coronavirus crisis turns life upside down at the University of Oregon and beyond, our students find themselves in a drastically different learning environment. Many worry openly and wonder what their classes will look like, and how they'll stay on top of things. 
But despite the hurdles, faculty across the schools and colleges are displaying both an unwavering commitment to their students' success and a sense of resilience. Facing what is likely the most unprecedented challenge to their careers, they are finding innovative ways to teach their students creatively, realistically, and supportively.
Biology 320: Cue the Excitement 
Before she was a research scientist, assistant biology professor Diana Libuda was a musician.
"Being able to see that audience and feel that connection with them, is really important," says Libuda, who plays the flute and the piano. "And so, this whole thing was really daunting to me."
But Libuda doesn't find herself daunted by giving her lectures for the College of Arts and Sciences Biology 320 online from home this spring. She started her planning by using her four-year-old daughter's Duplo blocks and puzzle pieces to demonstrate how proteins and DNA molecules interact. For a class of 75, the toys likely would've been too small for students to see.
But Libuda thought being in front of a camera would make the demo became easy to visualize.
She prerecorded her lectures and did multiple takes. In some ways, she started to feel like she was in a movie, and so it was only fitting she made her own movie trailer to connect with her students.
With more than 17,000 views on Twitter, the video begins with a "LIBUDA FILMS" logo. It took about two hours to make in iMovie. "They have a Bollywood theme, film noir, family, epic drama, retro scary, swashbuckler…the one I picked was blockbuster," Libuda says.
You see her teaching assistants (and their pets), all with a dramatic orchestral score. There's Libuda lecturing and feeding kangaroos. "My approach to the class is to try as much as possible to transfer my excitement for my field," she says. To her, what matters most is whether students – some destined to become research scientists; others fulfilling pre-med requirements – will feel engaged.
Libuda had her moments of doubt. When the fifth-year assistant professor began drafting an introductory email to the spring class, it felt flat and impersonal, she recalls. "I really struggled with writing this email because it didn't feel like it set the right tone for my course, to gain that excitement."
The trailer idea, which was sparked by one she saw on Twitter by a Bates College professor, not only makes lecture slides and DNA sequences feel exciting, it also conveys the realities of humans using technology to adapt, and it doesn't try to be perfect.

Moving forward, Libuda says remote learning in some ways takes her back to the basics of teaching. The ability to draw on PowerPoint slides with a stylus, using her iPad pro as a tool, or to send a video to students, is now the new normal.
"It's still like I'm interacting with them and walking them through the material," she says.
That new normal includes running a research lab of 13 people, in addition to parenting full-time while her husband works at an essential business. Recording a video ahead of time for students doesn't seem too odd at a time like this. And Libuda doesn't flinch at being back on stage for spring term. "It's similar to when you're about to do a performance or something," she says. "You're in a certain focused mindset."
She thinks her prerecorded lectures will help ease technological issues. "I really want an equitable playing field for all the students, and I know some of them won't have regular access to broadband," she said. "I try to be as adaptable as possible."
Journalism 342: Taking the Pulse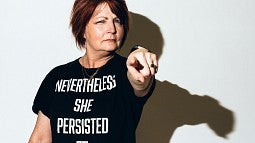 Google Forms is a tool School of Journalism and Communication Professor Deb Morrison uses routinely to survey students because she likes its flexibility.
The most recent queries she sent to her incoming Creative Strategists class included a broad one: asking more than 100 students to share their concerns about going into spring term remotely.
In communicating individually with many of her students, Morrison has heard a wide range of concerns.
"From, 'Will my internship still be there in the summer?' (Don't know) to, 'Going home makes me feel so sad because my family is dysfunctional. How do I deal with that?'" recalls Morrison, who serves as SOJC's director of advertising as the Carolyn Silva Chambers Distinguished Professor.   
Faculty members across campus are trying to address those unknowns and student needs, as well as moving entire classes to remote learning as they try to support students inside and outside the classroom, Morrison says.

Morrison's invested teaching perspective informs this holistic support, and she says many SOJC faculty, all of whom are storytellers using truth as a tool, tend to emphasize their relationships with students.
If you're not able to see students as individual humans, she says matter-of-factly, you lose a part of your teaching ability. "All we've got right now is this ability to get beyond the surreal circumstances of all of this, and try to help students see why any of this is relevant," Morrison says.
Her student survey revealed concerns about lost income, loneliness, access to learning and discrimination, many of which prompted Morrison to make direct contact over email, Twitter or Instagram. But the most common concern was disruption to the learning environment, and with it the challenge to stay focused and motivated.
Morrison has used these insights to retool her spring syllabus to meet students where they are. "I'm changing how I see the week," she says. Being flexible is a must.
In the old way, she'd see it as two classes: what she'd deliver and what students would do in between. Now, she's planning to post four or five 10-minute lectures per week, and use one class session for reviewing material and having discussion as a "big community," and the second for specific assignments that include team and individual work.
Morrison's graduate assistant is making a playlist for each week, according to the material's theme. It's an easy relationship builder, Morrison says, and helpful in being able to think about how her topics are reflected in culture. The playlist will also feature poetry readings by Morrison's actor son, who will record "a few pieces on perseverance, on community and not knowing the answer."
Meanwhile, she's offering students broad advice, like to make a list of three things to do each day and set up structure with a schedule. She and other SOJC faculty are making a point to check in with few students each a day.
Morrison keeps in mind that it's OK to grieve what we've all lost through this experience. She tries to see the shift to remote learning as a campus-wide pivot. Failure and loss are a part of the pivot in any creative process, but a pivot also brings incredible energy.
"We are going to get some amazing ideas, work, opportunities, relationships out of this that we wouldn't normally be able to do," says Morrison, who has been teaching at the university for 13 years.
And this exercise in problem-solving will prepare her advertising students to enter the professional world with usable tools in creative strategy. Their job will not only be to make ads, Morrison says, but to solve problems for people.
Theater Arts 212: Stitch by Stitch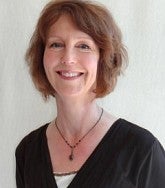 For some Theater Arts students, the College of Arts and Sciences Theater Production II class is a can that's been kicked down the road toward graduation, says Jeanette deJong, associate professor of costume design. That's because of the costume makeup portion of the class.
"I have the men shave, so that their whole face is a palette," she explains.
One bearded senior in particular was procrastinating whittling down his whiskers, she says. But this term, he lucked out. "I emailed him last night," deJong recalls. She wrote him: "You're really lucky you're not going to have to shave for this. But, you still have to design your whole face."
Teaching the makeup portion of the class online will be a departure from the norm, but it's not something deJong can't handle. She graded winter term finals based on photos students sent her, and she'll do the same with her spring class.
They'll begin the term by photographing their faces without makeup. DeJong will use those images to create a personalized blank template for each student to plan out makeup looks.
When it's time to paint their faces, students will take their own photos for submission instead of deJong doing it in person under controlled lighting. Now, her best bet for uniformity will be to have students go outside for clearer, brighter light. A few students will be learning from California, but most are here in Eugene, she says. "At least I'll know what the conditions are here," she jokes. DeJong even created a makeup template from her own face, as seen in her faculty headshot, that she uses to demonstrate the technique for students.
The first portion of the class focuses on costume production and will begin with hand sewing. DeJong spent spring break assembling 12 sewing kits to mail out for the first week of class.  Printed flannel, muslin, a couple of needles, a tiny spool of thread, beeswax, a button, a hook and eye, snaps and a skirt hook went into the first package. She knows students will be able to practice techniques like seams and embroidery.
Many students have expressed concerns about losing access to campus sewing machines, deJong says, noting that "it usually is a very high contact class."

So instead, deJong will demo sewing techniques over video. Students will be assigned to write detailed instructions of what she's doing instead of copying her on their own machines. DeJong hopes this exercise will give them a stronger foundation and higher retention.
And, because they'll spend less time practicing on machines, the class will have a chance to go over other subjects in greater detail, such as hand sewing and fabric types. "Instead of me passing around swatches, I'm going to send them a bunch," says deJong. "They'll actually have something in their hands."
The two-by-two squares she sent include cottons, linens, silks, wools and polyesters, each with its own feel. DeJong will also show them how to safely do a "burn test," a way to identify material because of the way it burns.
DeJong has worked in costume design around the country for more than three decades, at times on multiple separate productions, so she's not unused to working at a distance. Communicating through images and using technology to assist with learning is a norm for her.
Despite some changes to her course focus, all the students have been pretty positive going into term, deJong says. That support goes both ways.
"I think the students are going to help us out a lot, to be honest," she says. "I think they'll pull along with us."
Music 395: All Together Now 
"Ensemble" translates from the French as "together," which is why we use it to refer to a group of musicians playing together.
But a remote video ensemble won't come anywhere close to the feeling of a room with 50 other wind and percussion players and their instruments, says the School of Music and Dance band director and Professor Dennis Llinás, who leads the university's wind ensemble.
His job is to build students' ensemble skills, which he described as "communication between musicians, learning how to adapt to each other's playing in relation to what they hear around them," Llinás says. "So it's all based on this community, and unfortunately, that means you can't really replicate that online."
It can be done, he says, but it's a poor substitute, and he's not sure students would learn much from the exercise. So, rather than giving them busywork this spring, Llinás is pivoting to a completely different focus for the term that he thinks will benefit not only his ensemble students, but the community and the university, as well.
During spring break, Llinás posted a video of himself to the Oregon Band Directors Facebook page, asking members around the state to send him pieces of music they're working on with middle and high school students. Llinás' students will spend the term creating instructional videos for those young musicians, helping them learn pieces in a masterclass-like setting.
"Basically, teaching them all of the things that they are considering when they are playing the music at the high level that they do," Llinás says.
Outreach is serious work for Llinás, who since coming to UO seven months ago has dedicated significant time engaging with K-12 bands around the state. In February, he brought UO music students to Oregon schools, performing for around 700 students in three days across Medford, Salem and the Portland area.
With COVID-19 necessitating remote learning, Llinás was trying to figure out what to teach that would be of use. For some time, he'd been planning a formal online masterclass program. His top-tier players would perform 10-minute lessons on specific music that they would make available for free online.
While walking his dogs recently, he realized: "Maybe this could be the time to introduce this on a small scale. We help our teachers. We help students. We help our students create something meaningful."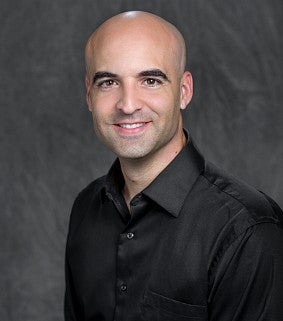 He envisions these skills will continue to help students in the years to come, whether they're recording pop music or teaching music themselves. He's betting his ensemble students will work harder, because they'll know their project will be viewed and used by many, not just sitting in his email inbox, destined to be deleted.
And, Llinás says, if the younger music students really like the way the UO ensemble players are leading? "They may reach out to them and say, 'Hey, I'd like to start taking private lessons with you," he says.
That's not to mention the community service such a project provides to music programs around the state. And the recruitment boost it may provide the UO School of Music and Dance is a plus.
This new energy has allowed Llinás to focus on fun, innovative work instead of grieving the loss of the ensemble community he has worked so hard to create.
"Maybe I'll sulk a little bit more in about two months," he says, jokingly. "But for now, we're just excited about making this project exceptional and meaningful for everybody involved."
Linguistics 201: A New Lens

It's hard to imagine a more opportune moment in time to study the power of language than an election year coinciding with a global pandemic.
Melissa Baese-Berk, an associate professor with the College of Arts and Sciences in linguistics who came to UO in 2013, has plans to make hay in her "Language and Power" class while the sun shines.
Her spring class will virtually discuss "how politicians from both sides of the aisle, how medical professionals, how social media, how basically all sorts of different actors in this situation are using language to talk about those issues and what the language people use might be telling us about their viewpoints on a variety of other things," says Baese-Berk, who is the Nancy L. Petrone Faculty Scholar.
The linguistic lens will be a fascinating one to explore as the year progresses, and Baese-Berk still wishes she had an extra month to prepare class material. But she's making do with what time she does have.
She'll be teaching remotely from Chicago, so she's made an animated class trailer with a smiling, yet silent, Baese-Berk avatar. She is also is getting up to speed on Zoom with her two cats for company. "At any moment, one could come across here," she laughs, gesturing to her keyboard.
One Zoom feature she's eager to put to use is the "breakout rooms" function, which will allow her class of 25 to split off into groups while she retains the ability to speak to all at once, or just one group at a time. "We're trying to make it a little homier and a little smaller in that way," she says.
She hopes students will overcome any vulnerable feelings about being a talking head by sharing first in small groups. She can also can move from one group to another as if she were walking around a classroom. It's virtual teaching that she's working hard to get right, with little room for practice.
"Realizing that it's not going to be perfect, that's hard for me," says Baese-Berk, who is deeply committed to providing undergraduate students a truly great experience. But today's reality calls for a new perspective on the limitations of her remote teaching expertise. "I have two, sort of, theme words for this term, which are generosity and flexibility," she says.
She'll be generous with students about expectations she's normally a stickler about, such as deadlines. "And I hope they'll give me some generosity in return when I totally mess things up in Zoom, right?"
Hand-in-hand with figuring it out together will be a flexible plan for the class. "I want this to be a collaborative process where we figure out what works together," Baese-Berk says.
She's been encouraged by the fact that faculty at universities and colleges around the country are creating support communities, providing both technical tips and places to vent. And her students' can-do attitude has been impressive, she says.
"That speaks to our really wonderful students at UO, who are not uptight in this particular way, are willing to sort of go with the flow in a way that I'm sure does not feel comfortable to them," she says.
She's giving students and herself permission to grieve the loss of spring on campus, of commencement, and other end-of-the-year milestones students normally celebrate together. But she's trying to tap into the excitement of what's next and find inherent opportunities in remote learning.
Her personal silver lining is the time difference between Chicago and Eugene. While students must attend her class at 9 a.m. (many likely in pajamas), she'll get to zoom in at 11 a.m. Central Standard Time, allowing her to relish her morning, whether that means working out or sleeping in.
Art 245 and Art 348: Making Their Mark 
"Printmaking attracts a very particular kind of student," says School of Art + Design visiting assistant professor Eric Ramos Guerrero. "Kind of handy people who can get in the zone and work."
As part of the College of Design's art faculty, he enters spring term teaching a screenprinting class remotely. Guerrero is hoping the DIY approach will lend itself well to the medium, and that students will appreciate the solitude.
"Everyone's talking about anxiety, being stuck at home," says Guerrero, who arrived from Columbia University a little more than a year ago." For artists, you want to be left alone and work, and be in the studio. When you're focused in something, you don't feel anxiety."

The UO printmaking studio technician Mika Aono Boyd assisted Guerrero to prepare kits of printmaking tools and supplies that are being mailed out to students for the Introduction to Printmaking and Screenprinting courses. They include scaled-down formats amenable to a makeshift home studio, and less-expensive paper so students likely will feel safer taking risks.
Some thick, premium papers cost between $4 to $7 a sheet, Aono Boyd says. "It becomes so precious, and they become a little timid in trying. Since they're in their home environment, away from us, we want them to try and experiment."
Rather than a traditional critique of work, students in the Intro to Printmaking course will gather in video chats to share and problem-solve.
"Instead of focusing on the outcome, we want to more focus on the process and learning. We can grow together," Aono Boyd explains. She has been a studio technician for nearly nine years and has taught for two.

There's a challenge for art and design faculty this term, says Charlene Liu, the college's acting associate dean of academic affairs. She also serves as the acting director of the School of Art + Design and is an associate professor of art. We have to "find the processes already in practice that aren't based on a shop and machines to do chemical reproduction," she says.
A professor of printmaking since 2007, Liu says her colleagues will employ traditions like hand carving and printing, as well as examining creative and philosophical processes behind printmaking.
All three acknowledge the students' disappointing loss of on-campus gallery spaces and the valuable interactions that normally happen there. There's also the loss of shared studio space, which encourages collaboration, cooperation and the sharing of resources.
But they also feel that being away from the studio and the institutional bubble will afford students a taste of the real world of professional practice after graduation when they likely won't have access to expensive equipment and their academic communities any longer.
"Because the facilities have been taken away, they're in this middle space" now, between the academic institution and life afterward, says Guerrero. Though they're not connected to all the institutional resources, "this in-between has the potential for helping them more."
And, Guerrero is excited for students to explore social engagement through the possibilities of displaying their work in local neighborhood spaces.
"Especially now when how we engage has changed between two people, out in space," he says. "Maybe a printed document, a printed art piece is way to connect without touching. To reaffirm things that we know, that maybe we're losing by not engaging on a more personal level."