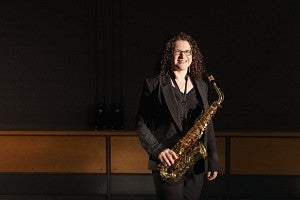 Idit Shner
Professor Shner is the newest Philip H. Knight Chair in the School of Music and Dance.
When Shner recently accepted a Knight Chair appointment, she snapped a photo with the signed letter and a fresh pack of Post-It notes. Why the notes?
"Because I have that many ideas for how to spend that money," the professor and performer said.
"One thing about Idit that's remarkable is she is highly respected in more than one idiom of music, and that's pretty unique," said Sabrina Madison-Cannon, Phyllis and Andrew Berwick Dean of the UO's School of Music and Dance and professor of dance. Madison-Cannon noted Shner's international reputation and virtuosity in both classical and jazz performance and instruction on the saxophone.
Shner has performed internationally in Israel, Korea and Japan and continues to play with her jazz quartet around the Pacific Northwest. She's also made several critically acclaimed recordings.
"We're really thrilled that her work is being acknowledged by the university," said Madison-Cannon, who formed a committee to review candidates for the appointment that ultimately recommended Shner. "It's clear that her creative accomplishments rise to the level of expectation for these Knight positions."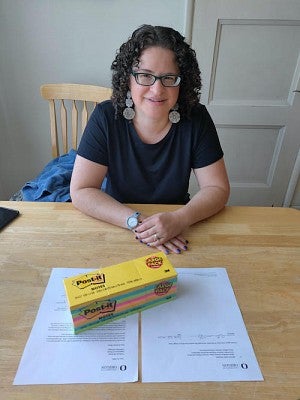 Enthusiastic is not a strong enough word to describe Shner's commitment to her students or her teaching, said Madison-Cannon.
The university has already recognized Shner's prowess as an instructor, both with a Thomas F. Herman Distinguished Teaching Award in 2015 for excellence in pedagogy and a Faculty Excellence Award in 2016.
Shner credits past Knight Chair and Director of Jazz Studies Steve Owen with inspiring her to be a positive and effective educator, as well as a good artist. And bassoon professor Steve Vacchi gets her thanks for his mentorship when Shner arrived at the UO and as she sought tenure.
Shner was born in Israel and immigrated to the U.S. after military service.
"I came to the U.S. in 1997 with a saxophone, one suitcase and a pillow," said Shner. "That's it."
After leveraging scholarships to earn her Doctor of Musical Arts from the University of North Texas, where she met her husband, she accepted a job as an instructor at the School of Music and Dance in 2006, eventually becoming an assistant and then full professor. 
Now, quite a few of her saxophone students who graduated with music education degrees are band directors in middle and high schools around Oregon and Washington.
"Ten to 12 years later, I'm starting to get students that were brought up by my students," Shner said. "So they're like my grandstudents."
These incoming music majors are a sign of accomplishment and a pride point for Shner.
"In my own tiny, tiny way, I think I've made a little dent in music education in the state of Oregon," Shner said.
In my own tiny, tiny way, I think I've made a little dent in music education in the state of Oregon.
Idit Shner
One way she hopes to use Knight funding is to purchase a baritone saxophone, more mouthpieces and recording gear. This would especially help her first-year students, who range widely in terms of access to such equipment when they arrive from all over the state.
She also has an out-of-the-box idea for collaborative research with colleagues in the Department of Human Physiology.
"With any kind of strength conditioning or physical, aerobic conditioning, there's a very precise protocol," she said. "But with saxophone techniques, we are horribly unscientific compared to the sports science people Right now, the common practice is, 'Well, just go home and work on it, see you next week.'"
She'd like to use a lab to develop a regimen of physical exercises and kinesthetic movement that's geared towards saxophone playing, which combines aerobic conditioning, facial muscle conditioning and fine motor skills.
"Generally speaking, musicians in reality are much more like athletes than the common perception. So, we can have better information about how endurance is built, how to train better, how to become better players," she said.
And, she'd also like to make some fusion records with her next-door neighbor, John Mambira, a Zimbabwean percussioninst, and his cousin, vocalist Ratie D. They performed together as part of a show livestreamed from Eugene's Studio 541, "Black Freedom Concert," on June 26. The sound Shner envisions would fuse Zimbabwean folk songs and dance rhythms with the jazz tradition.
Shner said she's always had many project ideas, but it's always been too expensive.
"Now I'm in a compeltely different reality. It's like, oh, well, let's just do this project. There are so many creative investigations I can embark on. It's kind of overwhelming," she said. "This is life-changing, this kind of money."
—By Anna Glavash, University Communications