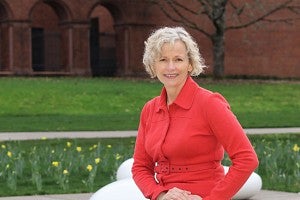 Bettina Cornwell
Professor Cornwell is the newest Philip H. Knight Chair in the Lundquist College of Business.
Cornwell is being awarded one of the University of Oregon's highest faculty honors. The marketing department head at the Lundquist College of Business will be named a Philip H. Knight Chair July 1.
"Bettina is our anchor research faculty member for sports sponsorship marketing research, and she has been growing a strong research group in the marketing department who publish in the very top journals in business," said Sarah E. Nutter, Edward Maletis Dean for the Lundquist College. "She is a prolific researcher and well-cited, is extremely effective on Twitter and LinkedIn, and is a sought-after speaker at international forums. She serves the academy and the world with her tireless work and it's an honor to count her among the University of Oregon Lundquist College of Business faculty."
A new research piece for the Journal of the Academy of Marketing Science, just published with former doctoral student Youngbum Kwon, now at the University of Michigan, analyzes sponsorship-linked marketing from 1996 to 2017. The work provides guidance on the types of sponsorship management research that are most needed.
A solo-authored companion piece published in 2019 in the Journal of Advertising argues for authenticity in sponsorship relationships and seeks to move brands away from accusations of green-washing, pink-washing and woke-washing.
Another paper with current doctoral students Eric Setten and Wendy Paik and associate professor Ravi Pappu of the University of Queensland, forthcoming in the Journal of Public Policy and Marketing, examines how the taste preferences of parents, and their decisions about providing their young children with junk food, impact the children's taste preferences and consumption of healthy foods, such as vegetables.

"My work in marketing is at the crossroads of marketing and public policy," she said. "Imagine, if more corporations took their responsibility to society so seriously, the world was made better through their actions. It is my goal to present research findings to lead them to those opportunities."
Along with being a star researcher, Cornwell generously supports her students, fellow faculty members and the college's centers and programs with creativity and gusto.
This spring, in the midst of an uncertain time for many students, Cornwell reached out to her vast network on LinkedIn with a simple request: Will you link to and talk with my students?
"I was overwhelmed by the response," she said. "The post got 18,000 views, and more than 50 people immediately and enthusiastically said yes, jumping at the chance to help our students succeed in any way that they could."
Students gained connections, informational interviews and even some job offers through the effort.
Last summer, before COVID-19 altered the way many institutions delivered education, Cornwell made use of the university's resources for online course development. She enjoyed the process and began building a YouTube channel with instructional segments for use by marketing instructors, professionals in practice and eager students from around the globe.
She sees it as another way the UO and the Lundquist College of Business can provide a service and content leadership to the world.
"Open source texts have been in discussion for some time; open source video content is the future of learning and we are answering that call," she said.
Open source texts have been in discussion for some time; open source video content is the future of learning and we are answering that call.
Bettina Cornwell
Cornwell earned her undergraduate degree in marketing with honors from Florida State University, her MBA with an emphasis in international business from the University of Texas at Austin, and her doctorate in marketing with a minor in cognitive psychology also at Texas.
She joined the Lundquist College of Business in 2010 and immediately began making a difference in the lives of students as interim doctoral coordinator. Many service projects and accolades followed, including the Faculty and Tenure Promotion Committee, search committees for our dean and provost, and work on the Senate University Library Committee.
Cornwell was named the Stewart Distinguished Professor, the college's annual award for a top research faculty member, in 2016, and received the college's Goulet Outstanding Research Award in 2015.
Many of her works have earned "Best Paper" designations, and she received the Applied Sport Management Association Achievement Award in 2020 and the North American Academy of Sport Management Research Fellow Award in 2019.
"In these challenging times, I appreciate the opportunity to join this venerable group," Cornwell said of the Knight Chair honor. "As professors, we have been handed a difficult set of circumstances. But together, we've taken the opportunity to do entirely new things in different ways, and as a group we are rising to challenge."
—AnneMarie Knepper-Sjoblom '05, University Communications