Willie and Donald Tykeson Hall
The UO's new hub for academic and career advising, and home to the College of Arts and Sciences, University Career Center, and Division of Equity and Inclusion.
Welcome to a place for student success
Located in the heart of campus, Tykeson Hall is the home to the UO's new approach to academic and career advising. The building not only provides advising services for students in the College of Arts and Sciences and Exploring students, but gives all students a place to develop a plan for success at UO and beyond. Throughout the building, students can meet with academic and career advisors to plan course schedules, build their resumes, and much more.
A legacy committed to the liberal arts
Knowing their passion for supporting students and liberal arts education, former dean of the College of Arts and Sciences, W. Andrew Marcus invited Willie and Donald to donate the lead gift for the building that now bears their names.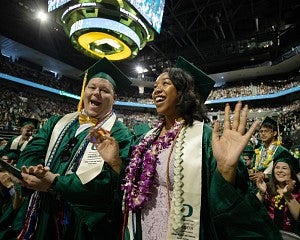 Supporting Student Success
Student success is more than a student earning a degree. It involves developing and acting upon a deep understanding of how life experiences, strengths, interests, and values shape academic and career goals. 
What people are saying

"Tykeson Hall now serves as a new center of gravity for connecting our effort for the single most important objective we all share — helping our students succeed. With its opening, we have a once-in-a-generation opportunity to refocus and redouble our efforts to deliver life-changing academic and career advising to our students."
Michael H. Schill,
President

"This new building will help the University of Oregon redefine how we view student success, and now students will have deep and transformative educational experiences that connect them to careers. Tykeson will be at the core of everything we do around helping students soar."
Patrick Phillips,
Provost and Senior Vice President

"As a university, we are undertaking a major effort to ensure that our actions around student success initiatives are transformative for our students' experience. Tykeson's opening is an integral component in our quest to ensure that all students have a fulfilling college experience."
Doneka R. Scott,
Vice Provost for Undergraduate Education
and Student Success

"Aligning career advising with academic advising, is an important component of the career readiness effort for our students. This will send a powerful message to students that the University of Oregon is invested in their academic success, their career goals, and their future employment opportunities."
R. Kevin Marbury,
Vice President for Student Life
"At Tykeson Hall, every student will experience love, authenticity, courage, and empathy as they connect with others in the classrooms, study spaces, and lounges. Tykeson will facilitate community and nurture a sense of belonging at the university, resulting in a stronger, more inclusive campus."
Yvette Alex-Assensoh,
Vice President for Equity and Inclusion 

"Tykeson Hall will help our students translate their passion for the arts and sciences into academic and professional successes. I'm profoundly grateful to our college's alumni and benefactors who made this building possible because it will help all our students reach their dreams."
Bruce Blonigen,
Dean of the College of Arts and Sciences
"You're on this planet to enjoy, contribute, make a difference, lead a fulfilling life, and have fun along the way. I think a liberal arts education helps equip you very well for that."
— Donald Tykeson, BS '51
April 11, 1927-July 12, 2017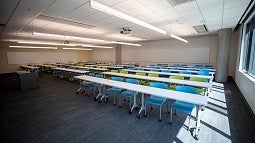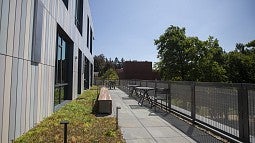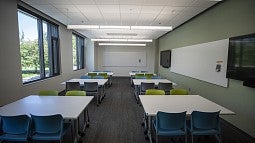 Intentional to the "T"
More than just walls, windows, and stairs, Tykeson Hall brings the vision of a liberal arts education to life through design. From the paint colors on each floor to where classrooms are placed throughout the building, each part was intentionally designed to give students a place to imagine, define, prepare, and achieve success in their studies and careers. Whether they've just stepped foot on campus or are planning for life after graduation, Tykeson Hall has a space for every student.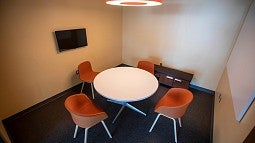 Tykeson Hall by the numbers
89.7%
Waste diverted from landfill
$10M
Donated by Willie and Donald Tykeson
1,100
elements in the rain piece of art
8,000
Employers sharing jobs with Ducks
6
Advising Flight Paths for students
Support Tykeson Hall
None of this would have been possible without the generous gifts of our donors. With their support, more students will be able to find the advising and support they need to be successful. Tykeson Hall will continue to enhance students' academic and career pursuits for many years to come. Be a part of the continuing legacy.
Recruit our students
Tykeson Hall not only offers opportunities for students but for prospective employers to meet their future employees. From networking events to University Career Center programs, employers can contribute to the career development of students and become a vital part of our campus network.