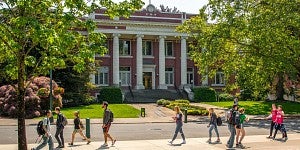 The Provost Fellows Program
The Provost Fellows Program galvanizes the Office of the Provost's faculty support programming, centers faculty insights, and provides a significant new professional development opportunity for faculty who are interested in academic leadership.
The fellowships are in the areas of teaching, leadership, and mentorship. Each fellow will help shape a high-priority university initiative:
Teaching fellows help UO develop a pervasive culture of inclusive teaching across policy and practice; 

Leadership fellows help launch a peer leadership development program;

Mentorship fellows deepen a rich, culturally competent mentorship culture across campus. 
All fellowships are yearlong, begin in Spring term, and include course releases for the academic year. Fellows also receive a summer stipend of $5,000.

The Fellowships
Each fellowship includes time to explore research and best practices. Fellows will be integrated into the overall work of the Academic Affairs team, under the direction of the Executive Vice Provost for Academic Affairs, with opportunities to interact with the wider leadership team. 
Project management, policy planning, and presentations in front of the senior leadership (i.e., Provost, President, other Vice Presidents) are components of the fellowship experience. 
At the conclusion of the fellowship, the Provost's Fellows will not only have a concrete set of accomplishments, network of mentors, and familiarity with university-level decision-making, but will also be poised to assume leadership positions of significant responsibility across the university.